Yoakum's History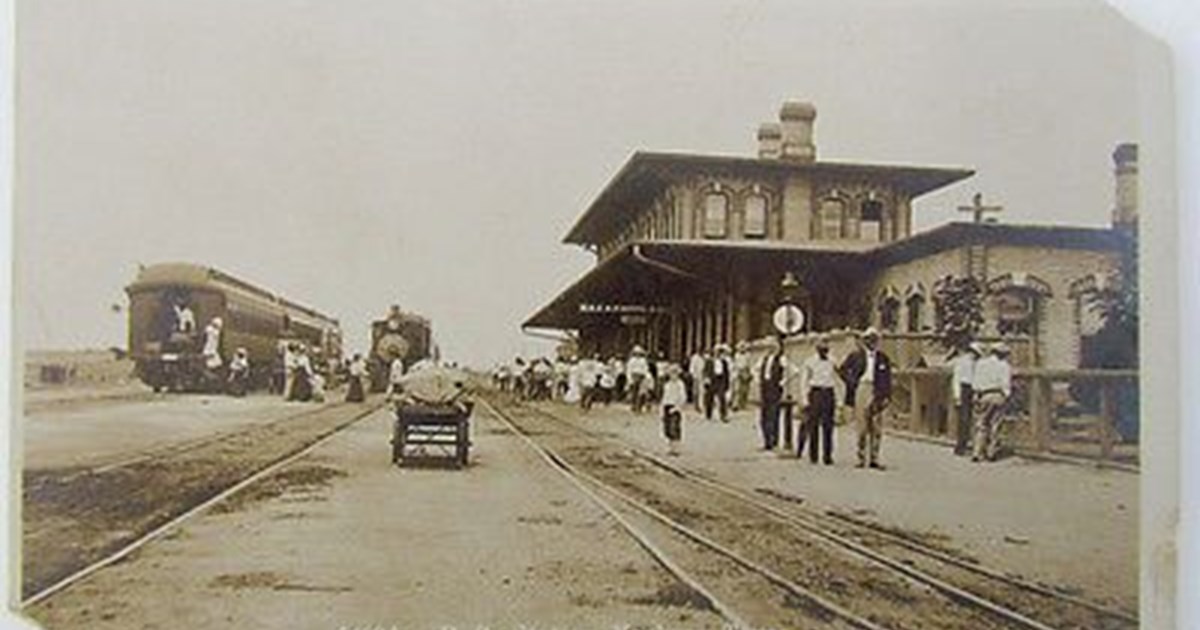 Yoakum is on the Lavaca-DeWitt county line. It was built on a league of land granted to John May by the government of Coahuila and Texas in 1835 and was used as a gathering place for cattle to be driven up the Chisholm Trail. Yoakum did not grow until the construction of the San Antonio and Aransas Pass Railway in 1887. At this time a townsite was laid out and named after Benjamin F. Yoakum, vice president and general manager of the line.
J.P. Jamieson built a store in 1887, and a post office opened that year. Railroad shops were located in Yoakum in 1888, and hundreds of people from surrounding towns found employment as its large roundhouse.
The town was incorporated on May 13, 1889, with L.W. Thomas as mayor. By 1896 Yoakum had a cotton mill, three cotton gins, a compress, several churches, a bank, an ice factory, specialty and general stores two weekly newspapers and one daily, a school system with 700 pupils, and a population of 3,000.
By 1914 the number of residents had reached 7,500. In 1919 Carl Wellhausen took over a small tanning company, the first of several in the city. The firm, known as Tex-Tan, a manufacture of saddles, bridles, harnesses, belts, billfolds, and novelties, later became part of the Tandy Corporation. By 1940 other local industries included a creamery and a mattress factory.
The first commercial tomatoes in the Yoakum area were grown in 1926. By the 1940's, fifteen packing sheds in Yoakum shipped tomatoes north, and the town was sometimes called the tomato capital of south central Texas.
In 1970 Yoakum had 170 businesses, including a leather-goods shop, a meat-packing plant, a food processing plant, a metal workshop, a cannery and two banks. In 1990 the population was 5,611.
Yoakum boasts of a rich heritage that covers a span of over 100 years. Mr. John May and wife, Mary Ann, came from Ireland across the vast American West to drive their stake in Brushy Creek. Mr. May obtained a league of land from the Coahuila and Mexican government in 1835. At the time Tonkawa Indians lived and raided farms in this area and joined forces with Mexican armed services during "Runaway Scrape" of the Texas Revolution. Other families settling with the Mays were Patrick Sawey, John Douglas, and the widower O'Dougherty and Douglas families. However, two of the Douglas boys, Thadeus and Augustin escaped harm because they were out rounding up oxen for their families to flee to safety. The May's land became a gathering place for many herds of cattle that congregated for the long cattle drive up the Chisholm trail. Eventually, Yoakum became the "Hub City" thanks to the dreams of Uriah Lott.
In 1884, while working in Corpus Christi, he was interested in building a railroad between San Antonio and Corpus Christi. Lott had no financial support but relocated all his belongings with a two wheel cart and borrowed a five dollar bill to obtain a charter to build the railroad from San Antonio to Aransas Pass. In July of 1887 the railroad to Houston reached halfway between Cuero and Halletsville. The intention was to locate shops in these towns, but since they were willing to grant land, they lost the railroad to Yoakum.
The May family granted Mr. Lott 200 acres of land for the railroad yard, shops and the right of way for the Waco and Houston tracks.
July 28, 1887 the town of Yoakum was established! It was named in honor of a man who worked for Lott, B.F. Yoakum, he became known for laying the most lines of track of any individual and for the opening and development of Long Island. All of Uriah Lott's dreams came true with the seven million dollar financial assistance of Mr. Mifflin Kenedy. Lott built 600 miles of railroad with the main line running from San Antonio to Houston, and another two lines from Yoakum to Waco and Yoakum to Corpus Christi. As a result of the railroad the town's population grew rapidly.
Eventually the San Antonio and Aransas Pass line had problems and was bought by Southern Pacific. Railroad traffic continued to slow. To combat the problem, in 1925 the Chamber of Commerce encouraged the farmers to grow tomatoes. The project was a huge success that was celebrated in 1928 with the first Tom-Tom Festival.
Commerce continued in Yoakum when Mr. C.C. Welhausen built a tannery called Tex-Tan. Tex Tan manufactured harnesses, saddles, bridles, billfolds and belts. As sales extended across the United States, Mexico and Canada, Tex Tan became a very large local employer and was eventually bought by Tandy Corporation. In its wake, over ten other leather companies have sprung up in Yoakum. The international distribution of products and large number of companies have made Yoakum the "Leather Capital" of the Southwest.
The Hospital, Texas Highway Department's District Office and growing insurance company have all added to the employment base in Yoakum. People from across the world come to partake of our festivals and hospitality! Tom-Tom is still a great tradition as is the newer festival, Christmas on Grand.
Thus from the dangerous days of Indian raids, through cattle drives, railroad booms, and tons of tomatoes; Yoakum has evolved to face a confident and prosperous future.
Come On By!
It's the birthplace of Texas Independence and the starting point of the Chisholm Trail... Learn more about the riches waiting for you in our South Texas region by visiting Yoakum today!